VectorPath Accelerator Card – Featuring Speedster7t FPGAs
The VectorPath® S7t-VG6 accelerator card is designed to reduce time to market when developing high-performance compute and acceleration functions for artificial intelligence (AI), machine learning (ML), networking and data center applications. The card features the Achronix high-performance Speedster7t AC7t1500 FPGA fabricated on TSMC 7nm FinFET technology.
Developed jointly with BittWare, a leading supplier of enterprise-class FPGA accelerator products, the VectorPath S7t-VG6 offers 400G and 200G Ethernet interfaces, 3.5 Tbps of GDDR6 memory bandwidth and a full suite of software and tools to get started right away.
AC7t1500 FPGA Highlights
Built on TSMC 7nm FinFET process
692K 6-input LUTs (1,522K 4-input LUT equivalents)
2,560 MLP blocks capable of 41K Int8 operations per cycle
2-dimensional NoC capable of >27 Tbps
Up to 86 TOps int8 performance
ResNet-50 benchmark: 8,600 images per second
Up to 4 Tbps of GDDR6 bandwidth
System Interfaces
PCI-SIG certified to support PCIe Gen5 ×16 host interface
One QSFP-DD cage – 400/200/100/50/25/10 GbE
One QSFP56 cage – 200/100/50/25/10 GbE
PAM4 (50G) and NRZ (10/25G) SerDes
GDDR6 – 16 GB, 8 banks with two independent 16-bit channels per bank
One bank of DDR4 – 2666 MHz with ECC, up to 4 GB (×72)
Flash memory for booting FPGA
Eight GPIO
MCIO – connected to FPGA via four transceivers supporting up to PCIe Gen5 data rates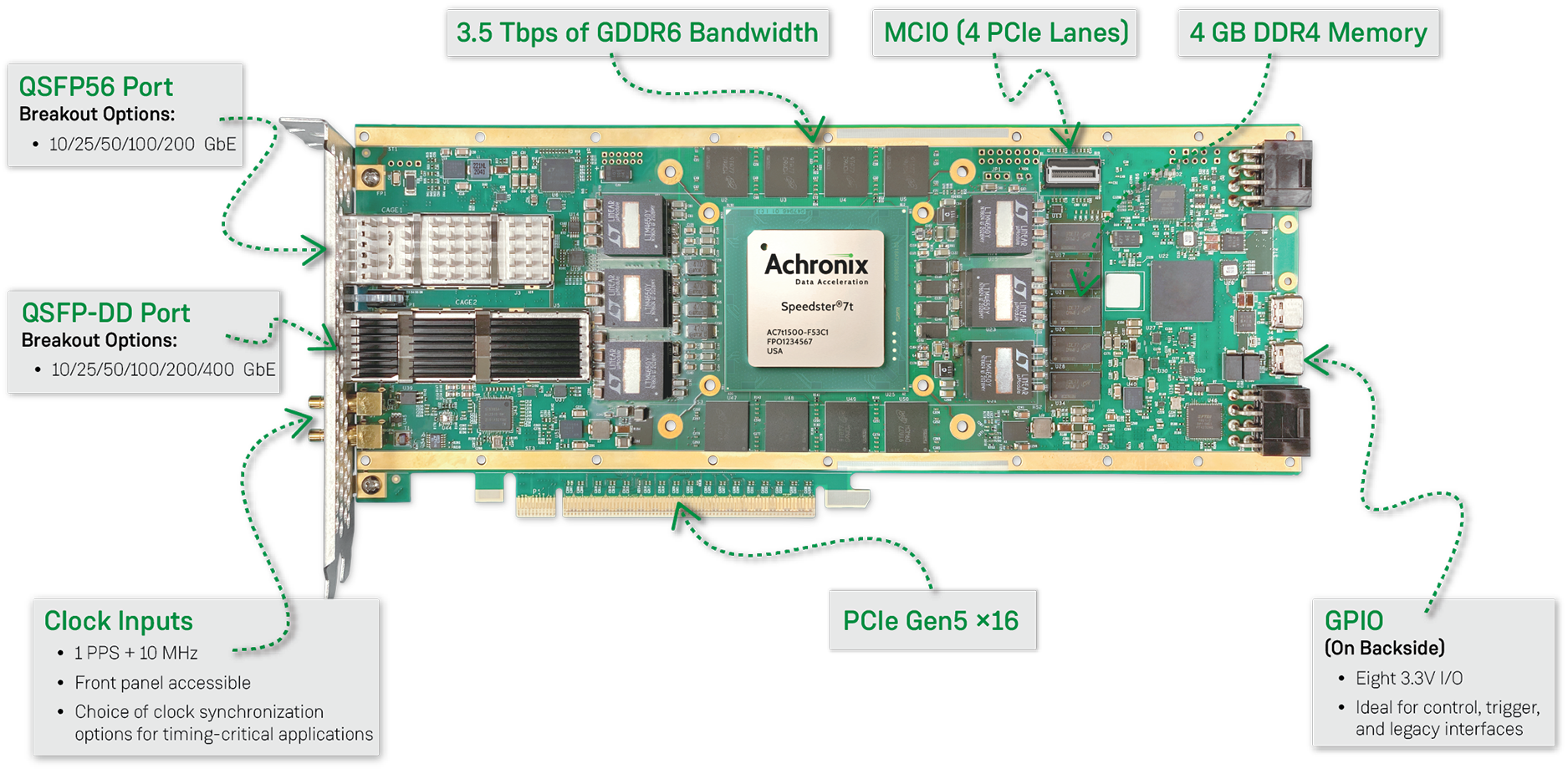 Target Applications
Compute
Network
Storage
Sensor Processing

Designed to address the most demanding compute-intensive applications

Voice recognition/search
Sentiment analysis
Image recognition
Recommendation engines
Genomics
High-frequency trading

QSFP-DD and QSFP56 ports cater to a wide range of high-speed network applications

Deep packet inspection (DPI)
Network monitoring
Server disaggregation
Load balancing
Firewall
Virtual machines

NVMe access for data recorder and data processing applications

Database acceleration
Deduplication
Erasure coding
Compression
Search

Optimize for your specific application requirements using GPIO and SerDes expansion ports

Weather forecasting
Oil exploration
RADAR
Medical imaging
Data recorders
Getting Started
Achronix ACE Tool Suite with support for the Speedster7t FPGA is available today. For customers who have already registered on support.achronix.com, learn how you can download the ACE design tools.
For purchasing details, please contact Achronix.