Speedster7t FPGAs
Speedster®7t FPGAs are optimized for high-bandwidth workloads and eliminate the performance bottlenecks associated with traditional FPGAs.
The Speedster7t FPGA family is optimized for high-bandwidth workloads and eliminates the performance bottlenecks associated with traditional FPGAs. Built on the TSMC 7nm FinFET process, Speedster7t FPGAs feature a revolutionary new 2D network-on-chip (2D NoC), an array of new machine learning processors (MLPs) optimized for high-bandwidth and artificial intelligence/machine learning (AI/ML) workloads, high-bandwidth GDDR6 interfaces, 400G Ethernet and PCI Express Gen5 ports. The 2D NoC connects all of the interfaces to over 80 access points in the FPGA fabric to deliver ASIC-level performance while retaining the full programmability of FPGAs. Get started today with the VectorPath accelerator card, featuring the Speedster7t FPGA.

2D Network on Chip (2D NoC)
High-Speed Interfaces
Machine Learning Processors

>20 Tbps bandwidth
Interconnects, I/O, memory, internal functional blocks and FPGA fabric.
Reduces routing congestion vs. traditional FPGAs by over 40%
Simplifies FPGA design

PCIe Gen5
112 Gbps SerDes (up to 64)
400G Ethernet
GDDR6 memory

Up to eight controllers
Up to 4 Tbps bandwidth

Native support for integer, floating point, bfloat16 and block floating point
Speeds up to 750 MHz with co-located block RAM
Fully fracturable integer multiplier/accumulator
Speedster7t Product Table
Part Number/Name
7t800
7t1500
6-input LUTs
326k
692k
Inline Cryptography
Yes
No
MLP: Multi-fracturable MAC array
864
2,560
LRAM (2.3 kb)
864
2,560
BRAM (73.7 kb)
1,152
2,560
Memory
85 Mb
190 Mb
ML TOps: int8 or block bfloat16
20.5
61
SerDes 112G/224G
24
32
DDR4/5
1 DDR5 ×64 (w/ECC)
1 DDR4 ×64 (w/ECC)
High-bandwidth Memory Channels
6 GDDR6 (1.5 Tbps, w/ECC)
16 GDDR6 (4 Tbps)
PCI Express Gen5
One ×16
One ×8, one ×16
Ethernet
8 lanes, 2×400G/
8×100G
16 lanes, 4×400G/
16×100G
2D NoC bandwidth (Tbps)
12
20
Next-Generation FPGAs from Achronix
The next generation of Achronix FPGA technology brings many innovations to the FPGA industry including:
Modular chiplet-based architecture allowing scalability to create the highest density FPGAs on the latest process technology nodes
Power and performance optimized 2D NoC technology providing fast data transport across the entire FPGA and die-to-die interconnects
Enhanced DSP and ML processor arrays offering low-power but high-performance compute capabilities
New, state-of-the-art, security and encryption features to enable fully secure programming and communication protocols
Support for the highest performance SerDes, Ethernet, PCIe and CXL standards
Support for the highest bandwidth external memory interfaces
Request More Information
Our experts are happy to advise you on how Achronix can help with your toughest design challenges.
VectorPath Accelerator Card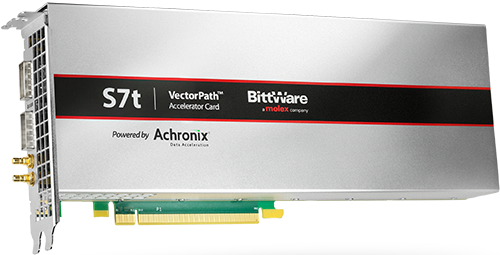 Get started with the VectorPath® accelerator card featuring the Speedster7t FPGA
PCIe Gen5 ×16 (PCI SIG Compliance)
400G and 200G Ethernet connectivity
Eight channels of GDDR6 delivering 3.5 Tbps of memory bandwidth
Includes one-year license for Achronix Tool Suite, BittWare BittWorks II toolkit, PCIe drivers