Computational storage solutions enhance traditional storage subsystems with more capabilities to reduce data movement and optimize performance and efficiency. The Speedster7t family of FPGAs allow you to create solutions to perform powerful data plane services at the storage, like indexing, searching, or even analyzing data with AI/ML algorithms. You can also provide more traditional storage data plane service like encryption, compression, and deduplication.
Computational storage leverages Speedster7t FPGA's ability to move massive amounts of data in, out, and around the chip as well as the large computational throughput of the FPGA fabric. This can substantially increase the system performance and saves moving data around the data center.The Speedster7t FPGA family is optimized for high-bandwidth workloads and eliminates the performance bottlenecks associated with traditional FPGAs. Built on TSMC's 7nm FinFET process, Speedster7t FPGAs feature a revolutionary new 2D network-on-chip (NoC), an array of new machine learning processors (MLPs) optimized for high-bandwidth and artificial intelligence/machine learning (AI/ML) workloads, high-bandwidth GDDR6 interfaces, 400G Ethernet and PCI Express Gen5 ports — all interconnected to deliver ASIC-level bandwidth performance while retaining the full programmability of FPGAs.
Speedster7t Solution
With Speedster7t there are many connectivity options leveraging the many lanes of high-speed SerDes along with PCIe Gen5 controllers. One PCIe controller can be connected to a host server while another is connected to flash storage for NVMe solutions. The chip also has Support for 400G Ethernet for NVMeOF solutions.
Using the both the PCIe and Ethernet together allows for creating of computational storage solutions where the storage devices can collaborate with their own network to distribute data and computation for optimal performance. This allows for offloading of even more complexity and optimizations from the host servers.
Speedster7t FPGAs have up to 8 GDDR6 controllers, which allow for over 4 Tbps of DRAM bandwidth enabling both high-performance caching solutions and high performance tables for services like deduplication. The DRAM bandwidth can help enable storage solutions to keep up with the high bandwidth of PCIe Gen5 and 400G Ethernet, with buffers that can match the peak bandwidth of these next generation interfaces.
Reconfigurable fabric is well suited for the data plane optimizations for computation storage and support updating algorithms in the field as solutions evolve. The new Speedster7t NoC provides the ability to gracefully move data around the chip and in and out of the fabric to keep up with the high bandwidth demands for computational storage solutions. Additionally, the high throughput encryption/decryption IP available in Speedster7t FPGAs allow for building secure solutions without sacrificing performance. The Speedster7t MLPs and reconfigurable fabric enable computation storage applications that accelerate machine learning in both today's and tomorrow's systems.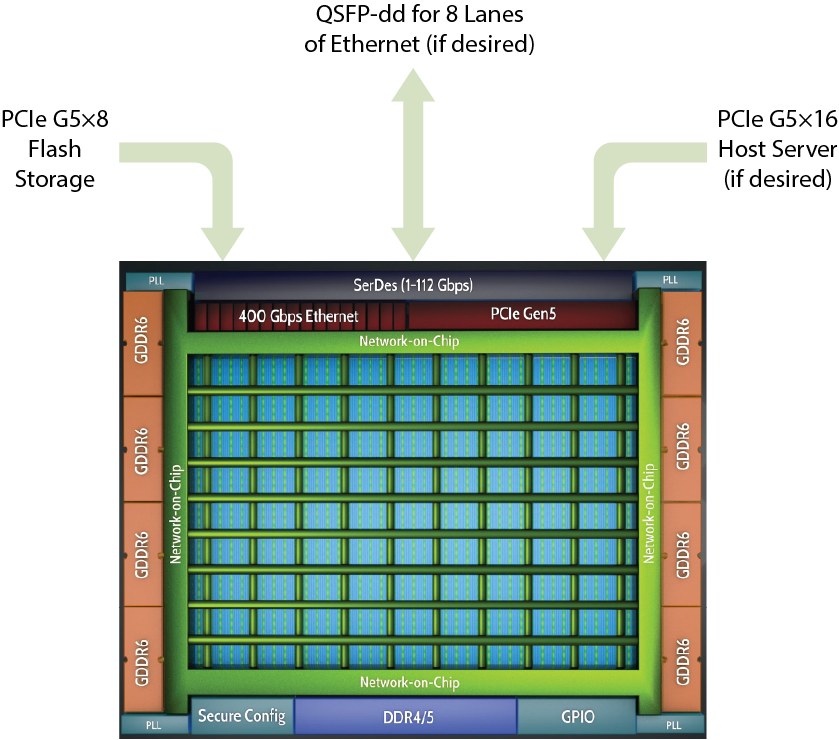 Application Requirements
Speedster7t Value
Programmable controller for new flash memories

Reconfigurable logic allows for easy migration to different flash technology nodes and/or flash vendors along with future migration
to new error correcting codes and algorithms. FPGAs help with differentiation with high IOPs.

Wide and high performance data-path

On-chip NOC supports efficiently moving high bandwidth data streams through functions like encryption/decryption or compression/decompression

Compression/Deduplication

72Kbit Block rams, dedicated shift registers and enhanced 6-input LUTs are powerful building blocks for compression.\
Fast GDDR6 SDRAM provides high-throughput tables for deduplication and compression

Encryption/Decryption

Efficient soft IP for data encryption/decryption at line-rate speeds

Data indexing and
Data search

Data indexing and search algorithms can be efficiently implemented directly in reconfigurable logic
Fast partial reconfiguration can provide flexible deployment and reuse of hardware

AI/ML data analysis

MLPs provide high TOps throughput while maintaining flexibility of FPGA

Caching

GDDR6 SDRAM can be used for low-latency, high throughput cache implementations

NVMe Controller

x16 PCIe Gen5 for maximum throughput
Additional PCIe Gen5 controllers for attaching storage

NVMeOF Controller

400G Ethernet for high-bandwidth networking
 
Encryption
Compression/
Deduplication
Data Indexing and Searching
AI/ML analysis
Caching
NVMe Controller
NVMeOF Controller
Highest Performance SerDes
112G multi-Standard SR/MR/LR PHY
 
 
 
 
 
Yes
Yes
Ultra-Short Reach (USR), eXtra-Short reach (XSR)
 
 
 
 
 
Yes
Yes (Silicon Photonics)
Most Advanced Interface IP
400G Ethernet - 16 lanes each running up to 100G
 
 
 
 
 
 
Yes
PCIe Gen5
 
 
 
 
Yes
Yes
Yes
GDDR6 - 4 Tbits/sec of memory bandwidth
 
Yes
Yes
Yes
Yes
Yes
Yes
DDR4 - up to 3,200 MHz, 3DS stacked memory
 
Yes
Yes
Yes
Yes
Yes
Yes
DDR5 - up to 4,400 MHz
 
Yes
Yes
 
Yes
Yes
Yes
Terabit Speed Routing
Network on Chip
Yes
Yes
Yes
Yes
Yes
Yes
Yes
Bus Routing
Yes
Yes
Yes
Yes
 
 
 
Fully flexibility bit wise routing
Yes
Yes
Yes
Yes
 
 
 
High Throughput Processing
Packet Processor/Traffic Manager
 
 
 
 
 
 
Yes
Datapath crypto
Yes
 
 
 
 
 
 
Machine Learning Processor
 
 
 
Yes