Key Trends
Advanced driver assistance systems (ADAS) is the strongest growth factor for electronics in automotive applications. However, there is no one perfect approach, and whether it's an architecture that is centralized, decentralized, uses cameras, radar or lidar sensors, each technology provider will take their own unique approach in order to differentiate their offering from the competition. With increasing adoption of AI, the application requirements continue to change and with the long production cycles from design concept to volume production, one thing is certain: these products must be designed with flexibility in mind.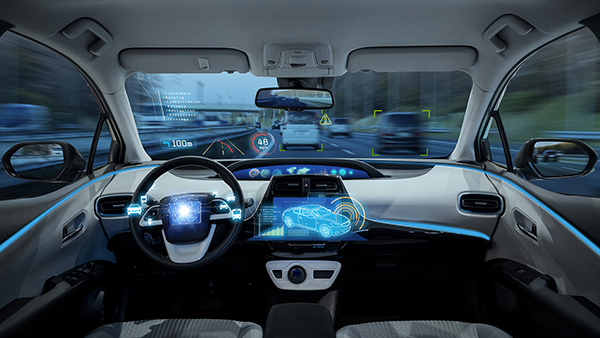 Achronix Solution
Achronix is uniquely positioned in the automotive market as a supplier of embedded FPGA (eFPGA) IP. Our Speedcore eFPGA IP allows for automotive semiconductor suppliers to control the amount of programmable logic in their devices, allowing for customization beyond what is possible in typical CPU or GPU implementations.
| Use Case | Value of Achronix Speedcore eFPGA IP |
| --- | --- |
| Flexible Interfacing | eFPGAs are the ideal solution for flexible interfaces adapting to the rapidly changing sensor types and interfaces on the market, while extending the life of the ASIC design. Sensors requiring lower latency also benefit as eFPGA technology provides much lower latency than conventional control loops involving processors or DSPs. |
| Algorithmic Acceleration | When combined with a CPU, a DSP, NPU or GPU, eFPGAs can provide dedicated acceleration for specific types of instructions not available with these cores alone. eFPGAs provide the performance needed in offloading tasks from these cores. |
| Sensor Fusion | eFPGAs are well suited for data formatting and adaptation, converting several data streams originating from various sources to the same format while merging them (fusion). Flexibility and performance are hallmarks of Achronix Speedcore eFPGAs. |
Other advantages of Speedcore eFPGA for automotive designs:
Saving board space and associated PCB costs by using a single-chip solution instead of an SoC coupled with a standalone FPGA
Power reduction by reducing solution chip count
Higher bandwidth thanks to die-to-die connection with a wider bus
Lower latency thanks to die-to-die connection without serializing protocol
Higher reliability with a single-chip solution
Scalability of the SoC offering, with one SoC supporting multiple product variants
Only Achronix offers silicon-proven eFPGA IP for high-volume automotive applications.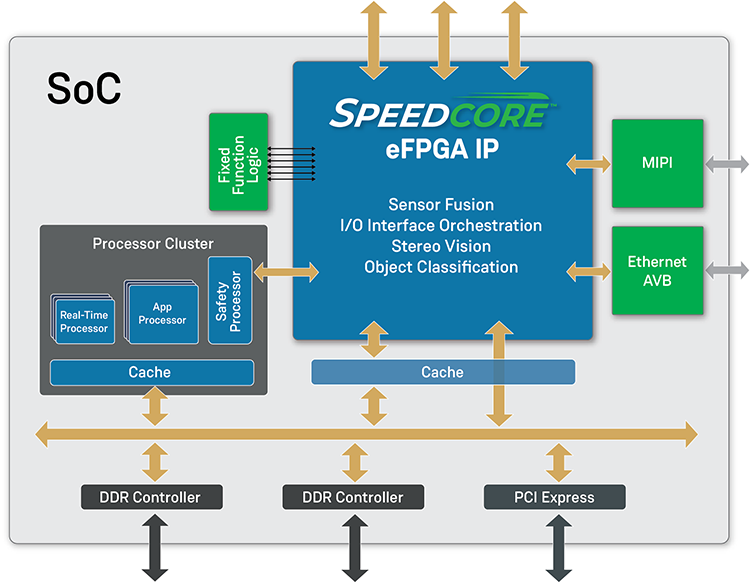 Example Speedcore eFPGA IP Integrated into an ASIC
Learn More about Achronix in ADAS applications
Webinar:
White Paper:
The Achronix Blog: