Since the company started in 2004, Achronix has always sought to be an innovator and thought leader in the FPGA industry. In the years since then, we've delivered on that vision by introducing FPGA and eFPGA IP solutions that feature groundbreaking technologies and offer industry-leading performance and power.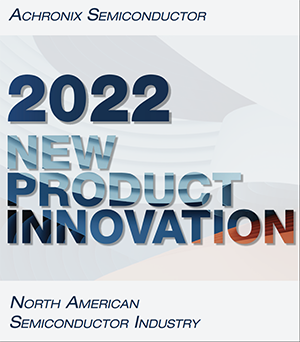 Achronix Has Won the Award For the Second Time, After First Being Awarded in 2020
This year, our hard work and contributions to the industry have been recognized by Frost & Sullivan, who awarded us their 2022 North American New Product Innovation Award in the semiconductor industry for the second time since 2020. After a rigorous analytical process involving a detailed evaluation of each nominated company, Frost & Sullivan found Achronix to uniquely excel in many of the criteria in the semiconductor space.
With this award, Frost & Sullivan highlighted several key differentiators that distinguish Achronix's place as a thought leader in the industry.
High-Speed FPGAs with 2D NoC
In their 2022 North American Semiconductor Report, Frost & Sullivan recognized that one of the important distinguishers of Achronix's product offerings is our 2D NoC technology.
As the industry is shifting to faster data rates and larger amounts of data traffic, it becomes more vital than ever that our computing hardware can keep up with these speeds. This is why Achronix has placed so much emphasis on developing FPGAs with the highest bandwidth possible. Our 2D NoC technology within our Speedster®7t FPGAs is a groundbreaking technology that provides high-speed systems with the ability to keep up with the blistering data rates of today's networks.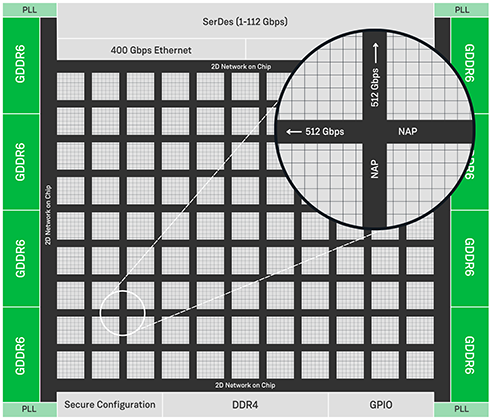 Internal Logic Connection Using The 2D NoC
As Frost & Sullivan describes, "Achronix developed innovative features and capabilities that significantly differentiate its products in the market, specifically with its Speedster7t FPGAs. The Speedster 7t architecture includes innovative features such as a revolutionary two-dimensional network‐on‐chip (2D NoC), for high-speed data transport through the FPGA's external interfaces and into the programmable logic fabric."
Machine Learning (ML) Acceleration
Beyond our 2D NoC, another place where Achronix aims to establish its thought leadership is in the field of ML acceleration.
One key to providing high-performance AI/ML at varying levels of accuracy, power, and latency, is that computing hardware must support the various number formats needed for the optimization of matrix and vector manipulation. Equally as important is the need for large levels of parallelism, allowing for high performance and low latency AI/ML computation.
Speedster7t FPGA MLP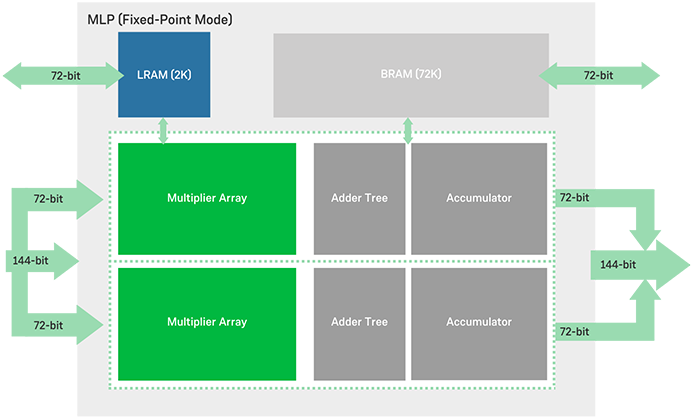 Speedster7t FPGA MLP
Achronix is aware of these needs and has prioritized these features in our products. Specifically, our Speedster 7t FPGAs feature a massively parallel array of programmable compute elements, organized into new machine learning processors (MLP) blocks.
Frost & Sullivan recognizes this as well, saying "The Speedster7t FPGA MLP (dedicated arithmetic units), another differentiating product feature, supports various number formats optimized for or various matrix and vector manipulation requirements including AI and ML applications… [It] is the only FPGA that natively supports block floating-point in the MLP without additional soft logic resources."
Continuing Leadership
At Achronix, we aim to provide products and technology that meet the needs of real-world, high-performance applications for today and the future. It is a great honor to have been recognized for our hard work and innovative technology and view this award as a testament to our continual effort to innovate and our position as a thought-leader in the industry.
Moving forward, we plan to continue to push the limits of our products to offer the industry the best FPGA offerings possible.
Could your next project benefit from an FPGA or eFPGA IP? Contact us today.