Address
5001 Great America Parkway
June 16, 2022
Santa Clara, CA
The TSMC 2022 North America Technology Symposium features keynotes and technology updates centered on collaboration around TSMC technology. Topics include TSMC's smartphone, HPC, IoT, and automotive platform solutions and TSMC's advanced technology progress on 7nm, 6nm, 5nm, 4nm, 3nm processes and beyond.
See Us in Booth 216
Meet Achronix in our booth or contact us to arrange a meeting. We'll be showing our FPGA technologies built for data acceleration of AI, ML, networking, data center and automotive applications.
Featured Technology
Speedcore™ eFPGA IP: the only high-end eFPGA IP shipping today in full volume. Speedcore eFPGA IP can be integrated into an ASIC or SoC to provide a customized, programmable fabric.
Custom-sized eFPGA IP embedded into SoC or ASIC device
90% lower cost than standalone FPGA solutions
Over 15 million cores shipped to date
Check out this short intro video below to Speedcore eFPGA IP.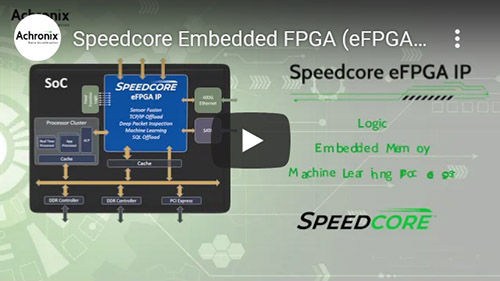 Connect with Us
Contact us to arrange a meeting or private demo. We will be happy to discuss your project and how Achronix can help achieve your performance and go-to-market goals.